Architects have designs on an 'awesome' Windsor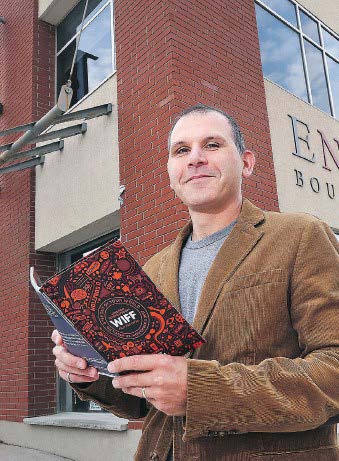 Start Date:
2017/10/30
End Date:
2017/10/30
All day Event
Location:
Sponsor:
Details:
Just a couple of the questions to be explored in the 'Spotlight on Architecture' portion of
this year's Windsor International Film Festival.
Sponsored by the Windsor Region Society of Architects, four new movies are designed to
entertain but also educate and activate citizens in the effort to foster urban renewal.
"We want to see Windsor grow into an awesome, awesome community," said WRSA executive
secretary Ken Acton.
"We think it's important to get the conversation started and engage people on what it takes
to build an excellent city, a city where people want to live and where people want to visit," said
Acton.
Discussion panels will follow two of the movie screenings to help ignite that community
conversation. Speakers will include city planner Thom Hunt and Birmingham, Mich., Mayor
Mark Nickita, who is also an architect and executive with the Michigan chapter of the Congress
for the New Urbanism.
Architecture, said WRSA chairman Settimo Vilardi, is about more than just designing and
building structures. It's also about community-building pillars such as planning, affordable
housing, walkability and sustainability. Sustainability includes heritage preservation, which he
said provides the "authenticity of place" that citizens yearn for in their communities.
Here's a synopsis of the movies, according to WIFF executive director Vincent Georgie,
who has seen all four:
Citizen Kane (USA, Nov. 4 and 5). Featuring the great city lover and advocate Jane Jacobs,
it's about "quality urban planning and urban activism and building great cities and great downtowns.
By planning urban cities well, we avoid suburban sprawl."
Faces Places/Visages Villages (France, Nov. 5). The 2017 Toronto International Film Festival
People's Choice Award winner and WIFF closing night film is about "the power of the public
place … (and) how to find beauty in the buildings and outdoor spaces where you'd normally
not find beauty." French New Wave director Agnes Varda, 89, teams up with a photographer
on a village journey that includes plastering fourstorey-high photos on the sides of dilapidated
buildings.
Integral Man (Canada, Nov. 4). "An amazing house." Spending a small fortune over a
decade building his Toronto dream home/artwork, mathematician and music lover Jim Stewart
draws worldclass guests to one of the city's best performance spaces.
Vancouver: No Fixed Address (Canada, Nov. 2). Imagine becoming rich selling your home
— but then not being able to afford another home in your own city.
"When homes are used like stocks to trade, in what way does it completely disrupt a community?"
Georgie asked of a city where the average home now costs $1 million.
Affordable housing, said Kari Schofield, public affairs manager with the Windsor Essex
Community Housing Corporation, "has a direct impact on our culture and our community."
Windsor might have some of the cheapest city homes in Canada, but she said affordability is
becoming an issue for more and more residents, and it's something that needs to be addressed
by leaders and the community.
As people get pushed out, as is happening in red-hot real estate markets like Toronto and
Vancouver, homes go from "living spaces to commodities," said Schofield.
The local community Housing Corporation will be represented on the panel that follows
the Nov. 2 screening of Vancouver: No Fixed Address. Schofield hopes part of the conversation
will focus on how Windsor might grow through its grassroots community builders.
The four Spotlight on Architecture movies at this year's festival, which runs from Oct. 30 to
Nov. 5, convey similar messages about the importance of "building quality places where people
want to live," said Acton. "People create the communities we want to live in."

Sorry, Comments are closed!