Jarvis: Mostly vacant Windsor plazas seen as an opportunity for 'sprawl repair'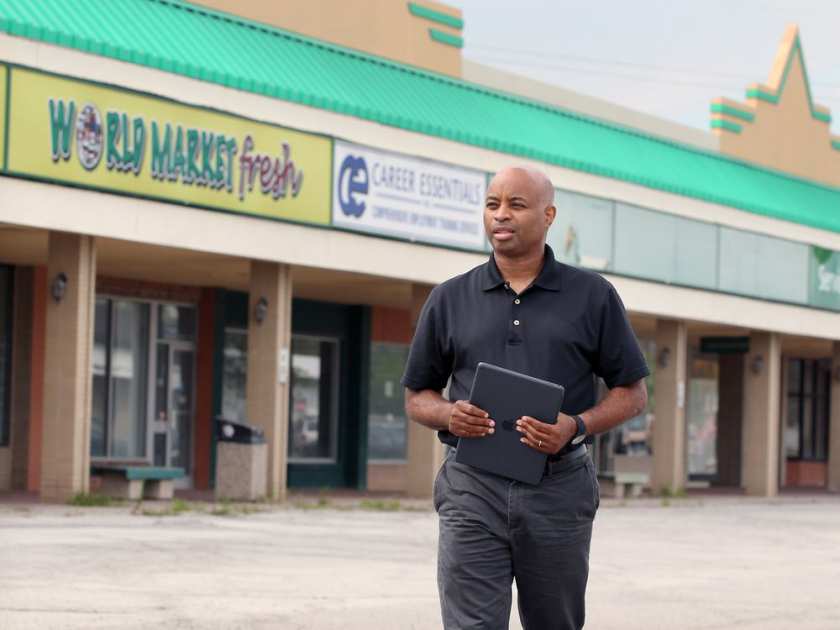 | | |
| --- | --- |
| Start Date: | 2017/08/01 |
| Start Time: | 5:43 PM |
| End Date: | 2017/08/01 |
| End Time: | 5:43 PM |
| Location: | |
| Sponsor: | |
Details:
It's a total of 32 acres, and most of that is a vacant parking lot, a bleak ocean of cracked and patched pavement with weeds growing out of it. It's so big that truck driving schools used it to train drivers in tractor trailers.
A chunk of the marquee is missing at one end of Dorwin Plaza on Dougall Avenue. Part of the ceiling is hanging down over the entrance of one storefront. Patches of paint are missing from the wall at one end of Dougall Plaza immediately to the south. The pillars along the storefronts are rusted.
There are a total of 216,000 square feet of storefronts. And only two tenants.
"The word that comes to mind," said architect Dorian Moore, a partner in Archive Design Studio in Detroit and lecturer in architecture and urban design, "is wasteland."
"I'm not worried," Dougall Plaza's Toronto owner Carlo di Bernardo glibly told the Star's Doug Schmidt. He has other properties that make money.
But this titanic blemish matters a lot to Windsor.
Strip malls like Dorwin and Dougall plazas litter North America. They were built for cars, not people. They're not inviting, and that's why they're dying. One of the biggest challenges for cities is how to fix them. It's called "sprawl repair," and it's about retrofitting half-empty malls, strip malls and office parks.
And like Dorwin and Dougall plazas, they're not all in suburbs.
"I see opportunity for places like Dorwin," said Shane Mitchell, a project manager at Glos Associates architectural and engineering consultants in Windsor.
It's about converting these monstrosities into neighbourhood hubs with a mix of uses. Monolithic buildings are carved into smaller buildings. Small streets and public squares are added. Parking is reduced. It's creating a traditional city centre and main street.
"All of a sudden you … end up with an interesting place," said Mitchell.
Think of it this way, said Moore, who lives in Walkerville and is on city council's planning committee. The core of Walkerville, bounded by Lincoln and Argyle roads and Tuscarora and Assumption streets, can fit within the area around the two strip malls, which is bounded by Dougall, Eugenie Street West and the train tracks.
"It gives one a sense of the potential of the site," he said. It's large enough to create its own little neighbourhood."
North of the tracks is a traditional neighbourhood with character — old brick houses, sidewalks, mature trees.
"Try to build off the character of the neighbourhood," he said.
There's enough room for modest townhouses, which would support businesses that cater to neighbourhoods, from retail to restaurants.
"You could create a destination similar to Walkerville," he said.
Moore, who was on the Detroit Land Use Master Plan Task Force, has also worked on a master plan for Sterling Heights, a Detroit suburb filled with places like Dorwin and Dougall plazas. Moore's company chose 10 to 12 key intersections — most with strip malls — and created a plan to revive them with "hubs of activity." The city adopted it.
Dorian Moore walks around Dorwin Plaza on Dougall Avenue on July 28, 2017. NICK BRANCACCIO / WINDSOR STAR
Dorwin and Dougall plazas aren't at key intersections, but they have another advantage, said Moore.
"It has the potential to create its own identity — and that's really one of the keys — due to the fact it's not physically connected to any other area. There's an opportunity for something new there," he said.
Sterling Heights is setting a precedent for development in the future.
"I think that's something we need to do in Windsor," said Moore.
When a city doesn't plan the type of development it wants, he said, it tends to "take whatever is put in front of you.
"Whereas if you take the time to think things out and plan," he said, "you have something you can bring to the table that you can convince developers to work with you on."
The first thing municipalities, including Windsor, have to do is change regulations that require buildings to be too far from the street and have too much parking. Cities can also stop offering tax rebates for some vacant properties, as Windsor is considering. But they also need to offer incentives for developers to do these types of developments, like Windsor already provides for other types of development.
And they have to encourage developers to "see the value in doing that kind of development," Moore said. Show them what can be done, he said, citing Mashpee Commons in Massachusetts, a 1960s strip mall with a huge parking lot converted into a renowned and award-winning mixed use town centre.
"You have to encourage the type of development you want to see," said Mitchell.
Look at the popularity of Walkerville and downtown Detroit, Moore said. They're what millennials want.
"The more of those types of environments Windsor can create, the better off we'll be," he said, citing the beginning of a similar trend in Sandwich and potential in Ford City.
"A city like Windsor has to look at these things as an opportunity to create an environment that people aren't going to get in Tecumseh, in LaSalle."
Offering both new developments and traditional neighbourhoods "could be a home run," he said.
"Windsor leadership has for a long time concentrated on its visitability," he said. "It needs to focus on its livability. That's what has helped Detroit…. I mean creating a place that, when people do visit, they can envision themselves living here. That comes down to creating the walkable areas that both younger adults and retirees are looking for."

Sorry, Comments are closed!